Danielle enjoyed playing with the patchwork style of the quilting trend for this layout using American Crafts' Lizzie Neopolitan range. Pieces have been cut from a couple of patterned papers and then adhered to a third sheet of paper before the entire background was stitched over back and forth, diagonally and straight. Once the quilted background was created, Danielle simply used it as a base for her layout, adding embellishments, a photo and title.
Louise N readily admit's to being inspired by Digital scrapbookers. Louise has seen the stitched patchwork element used many times on digital layouts, and loves it so much that she thought she would emulate it on her layout. Louise has first created patchwork squares with gesso and then stitched around them. This can be seen in the close-up photos.
Louise W created a layout utilising the most basic of quilting shapes - the square. By inking the edges and adding faux drawn stitching and buttons, the homespun feel is enhanced and adds warmth to an otherwise plain background. The addition of swirls and soft fabric leaves compliment the overall theme and adds interest and movement to the modular style.
This beautiful duo-toned layout was created by the talented Heather Greenwood. The honeycomb design not only reinforces the title and bee themed embellishments, but is also another basic quilting pattern that is making a popular resurgence in scrapbooking. 
Anabelle O'Malley is one of our go-to designers when we're looking for someone in touch with and even ahead of the trends.  She created this fab layout combining chevrons and hexagons using Crate Paper's 'Random' range, and even offers a tutorial on how she did it here.
French scrapbooker Sophie Crespy brings us these three quilting style layouts. She demonstrates beautifully how different shapes can be cut and stitched to create this quilting effect while still resulting in quite varied and inspiring layouts!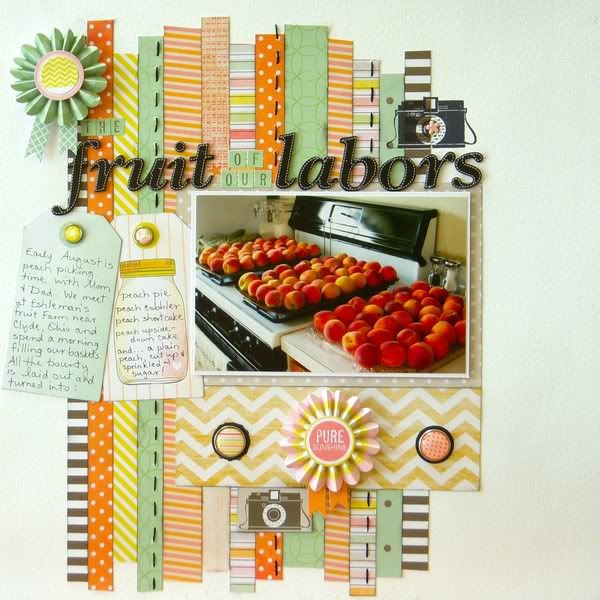 Sue Althouse created this fun, colourful layout that incorporates the look of multi-patterned quilting strips with hand-stitching to add a sweet, homely touch.